Location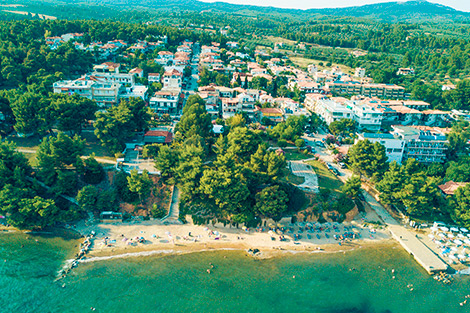 The Halkidiki peninsula is immediately recognizable by its "three fingers" that stretch into the Aegean Sea. Kassandra and Sithonia draw crowds to their blissful beaches and growing adventure travel scene. Meanwhile Athos is the mysterious monk's republic, where time has stopped at the Byzantine era.
Even if you usually yawn at resort-filled beach destinations, Sithonia's beauty has the power to melt cynicism. Yes, tourists flock here to laze on beaches. But allow the scenery to work its magic: pine forests crowd a wild interior, fringing cliffsides that plummet tranquil coves. Sunsets are remarkable. Diving and watersports opportunities are excellent, and dozing on a beach might seem a little enticing after all.
Access
Metamorfosis is a tranquil seaside village that lies at the northen tip of Sithonia, 90 km from Thessaloniki and 7 km from Nikiti, where the main road devides to the east and west coasts.
Along the west coast you'll find Sithonia's largest resort, Neos Marmaras. The east coast's beaches have a little more sparkle; further south the terrain gets wilder, with beaches in hidden bays.
Driving directions:
90
km
away from Thessaloniki